Have you ever had to drag your way through a school year with tears and gnashing of teeth? Well I have. I mean, not literally gnashing of teeth, but you get my point. School was "boring", "too hard" and frustrating ad nauseam. That makes for a hard year when everyone is ready to quit in October and you do  not change things up! If you and your children are already dreading the school year coming up or just barely started (we start after Labor Day) now is the time to take a closer look at unit studies. Unit Studies bring back the fun to learning.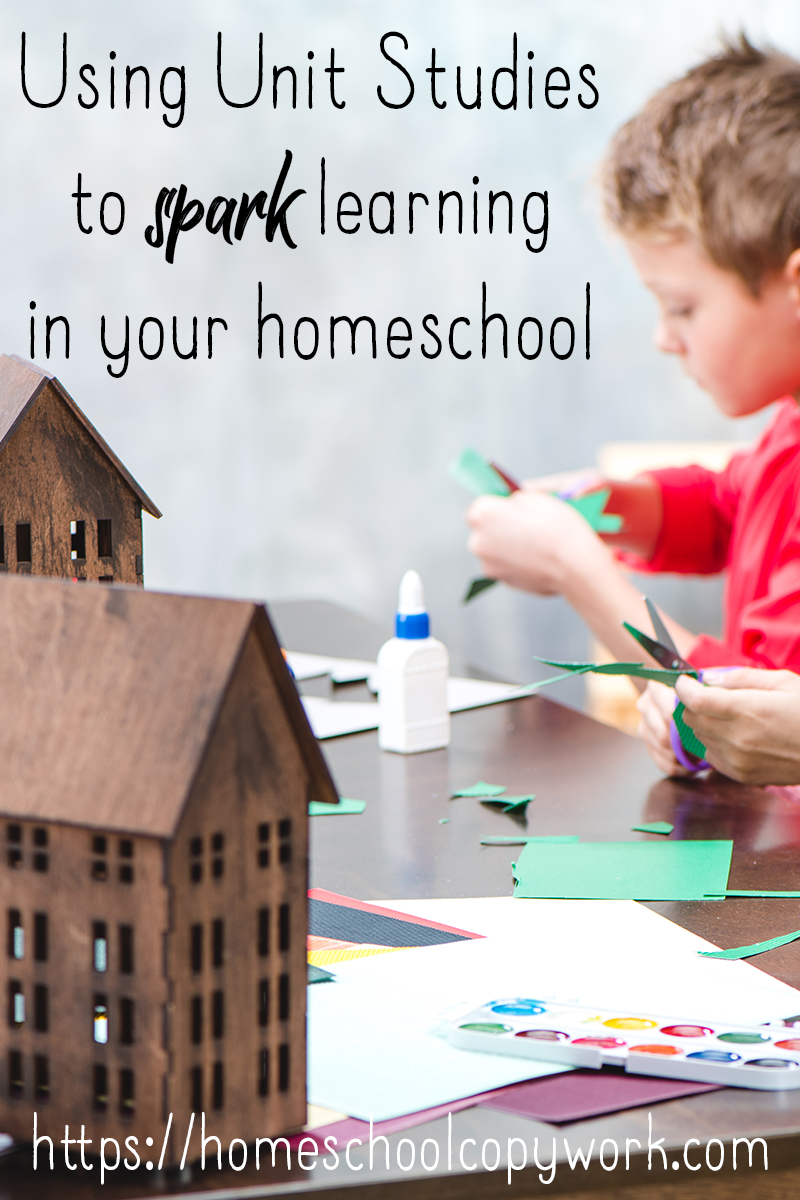 My earliest memory of a unit study is our third grade history studies in public school. I was in Mrs. Bledsoe's class, but for history I got to go over to Mr. Loveless's class for a lesson in Indiana history. That year, we made corn mush (it was so much tastier than I expected!) took a field trip to the Lewis and Clark trails through Indiana, and made all kinds of fun projects related to history.
But more then that, our exciting studies of Indiana history trickled into the other classrooms and subjects like handwriting, grammar, and literature and surprised us. It wasn't the most all-encompassing unit study usually embraced by homeschoolers, but it was pretty awesome. Here I am still remembering that experience 38 some odd years later. Unit studies are pretty amazing.
The next year in Mrs. Park's class – we studied pioneer history and the great expansion out west. We built Conastoga wagons. Similar experience. I'm pretty much in love with this kind of learning because of my experiences in third and fourth grade.
Notice that both of my examples of personal unit study experiences are from my own public school experience, but what I remember from those experiences is not specific knowledge but the projects and the fun. The cool thing is that every project I remember was teaching me something, whether it was a love of history, how to follow directions, spatial organization, fine motor skills, handwriting practice, gross motor skills, or project organization, unit study projects TEACH as the student enjoys the process. What makes unit studies work so well for homeschooling is the incredible amount of freedom you have at home. You can go further, cook more, explore more, take fantastic field trips, and exhaust all avenues of learning fun until you and your students are ready to move on.
Unit studies make learning more fun! In your Homeschool Copywork Membership you can find fantastic copywork to fit into a variety of unit study topics! From dragons to Thanksgiving, we've got something that will work.
Another (home) school year is upon us!
Some of you may have already started your year, or some of you might school all year long, or some of you might be making those final curriculum decisions before your new year starts.  Whatever boat you are in, I'm sure you could use a little extra money for homeschool curriculum or resources.  Am I right?
I've gotten together with some fellow homeschool bloggers and we are pooling our money together to bless two homeschool families with a gift card to spend on their homeschools.  How does $250 sound in helping you buy curriculum, books, games, puzzles, or whatever educational supplies you might need?  Two people will win a $250 gift card to Timberdoodle!!

We know homeschooling can put financial strain on families – whether it's from living on one-income or buying curriculum for multiple children – the financial aspect of it can be stressful.  Our hope is that we can bless a couple of homeschool families (although we wish we could bless many more) so they can buy the curriculum and supplies they need.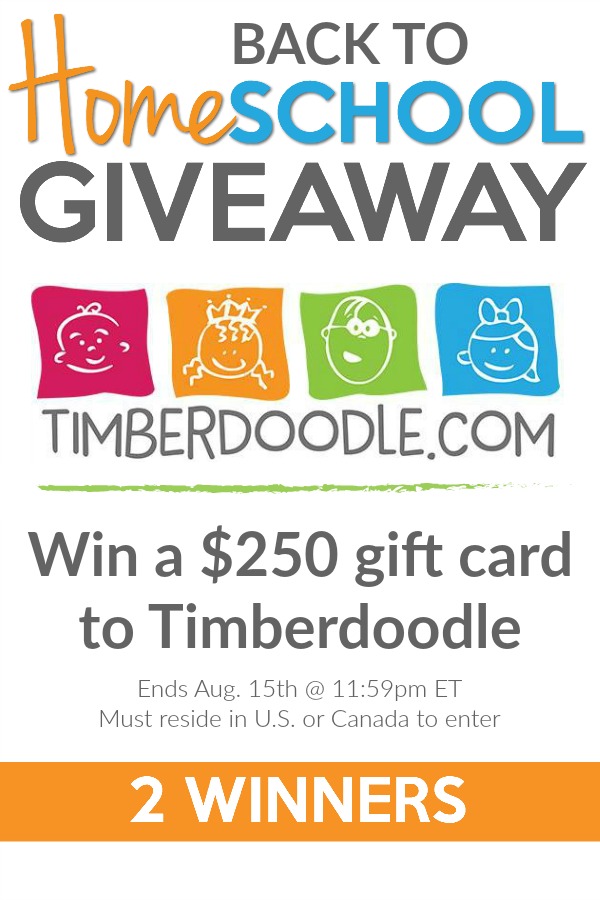 To enter for your chance to win, simply use the Rafflecopter form below to enter.  Now I know that is quite a few entries for you, but each of these bloggers generously chipped in their own money to bring you this giveaway, so I hope you will take the time to do all of the entries.  And hey, the more entries you do, the better your odds are of winning!
Giveaway ends Aug. 15, 2018 at 11:59pm ET.  Must be at least 18 years of age.  Must be a resident of U.S. or Canada to enter.  Selected winners will have 48 hours to respond to email notification to claim their prizes or another winner will be drawn.  By entering this giveaway, you agree to be added to the email lists of the participating bloggers.  Please be sure to read the Terms & Conditions upon entering the giveaway.
a Rafflecopter giveaway